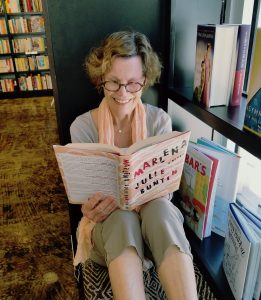 Hi Bookfriends,
You know me – I get really excited when I read a first novel that grabs me on the first page and won't let go. That's the way it was with Gabe Habash's Stephen Florida and with our new virtual book club pick Marlena, by Julie Buntin. One of the best parts of running a bookstore is being surrounded by books and authors you may not have heard about yet and knowing that you can share these amazing books with readers before word gets out. Imagine my surprise and delight when I found out that Gabe and Julie are a couple!  We all agreed, we had to get them to Books & Books @ The Studios.
These novels could not be more different yet,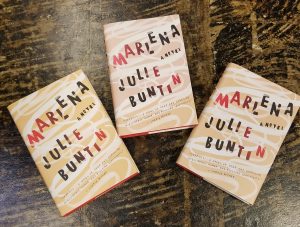 in each, the writing sings and the characters are unforgettable. Each deals in its own way with obsession – in Marlena, a friendship – in Stephen Florida, college wrestling.  But the take is so original you feel you've never read this story before.
For more on Marlena, read store manager Mia Clement's review.
If you're in Key West, join us at 6pm on March 13, when we'll be hosting Gabe and Julie in conversation (and you can get your books signed.) It makes a huge difference to our visiting writers, their publishers, and to us, when we bring in a good audience. You've been great so far.
And while we're on the subject of events: Save Wednesday, March 21 for a special event with Tayari Jones (author of the #1 bestseller, An American Marriage) in conversation with her publisher Elisabeth Scharlatt. (Spoiler alert – they met in Key West.)
If you're not in town, read Marlena along with us via our virtual book club and share your pictures, thoughts and questions. We love seeing where you're reading and hearing what you think.
Once again, thanks for your support.