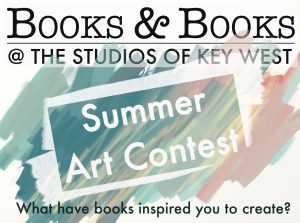 We're looking for submissions to our summer art contest!
Some Details:
One submission per artist.
No size or medium limit but please keep in mind the limited space in the bookstore.
Is there a theme?
Yes! We're looking for art that was inspired by a book you loved! Inspiration comes in all forms so feel free to incorporate as much or as little reference to the book in your piece as you like.
How do I register my piece?
You can register at any time, even before your piece is finished… or even started.

When does my piece need to be finished?
Drop Off: Friday, October 13th or Saturday, October 14th between 10am-6pm
Pick Up: Friday, November 17th or Saturday, November 18th between 10am-6pm
(email emily@tskw.org by Thursday 10/12 for drop off or pick up outside of these time and dates)

What can I win?
One piece will be selected to display in Books & Books for one month plus a $500 Books&Books Art Supply Gift card! Prizes for 2nd and 3rd place winners as well.
Will there be a show for the work?
Yes! All work will be on display in the 2nd floor lobby. The show will open during the Studio's rescheduled First Thursday event on October 19th and run through the pick up dates.

Can I sell my piece?
Yes! Everyone has the option to put their piece up for sale. In the event of sale the split will be 25/75 (75% to the artist).

How do I sign up?

You can register online by
clicking here
. You can also visit the store 7 days a week, 10am through 6pm. Registration closes on the last day of drop off, Saturday, October 14th at 6pm. You can register at anytime, even before your piece is finished.