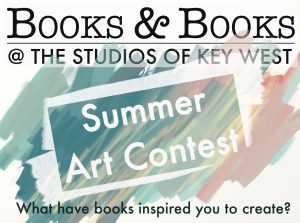 We're looking for submissions to our summer art contest!
Some Details:
One submission per artist.
No size or medium limit but please keep in mind the limited space in the bookstore.
Is there a theme?
Yes! We're looking for art that was inspired by a book you loved! Inspiration comes in all forms so feel free to incorporate as much or as little reference to the book in your piece as you like.
How do I register my piece?
You can register at any time, even before your piece is finished… or even started.

When does my piece need to be finished?
Drop Off: Thursday,  September 28th or Friday, September 29th between 10am-6pm
Pick Up: Thursday,  October 5th or Friday, October 6th between 10am-6pm
(email emily@tskw.org by Friday 9/22 for drop off or pick up outside of these time and dates)

What can I win?
One piece will be selected to display in Books & Books for one month plus a $500 Books&Books Art Supply Gift card! Prizes for 2nd and 3rd place winners as well.

Can I sell my piece?
Yes! 1st place winner has the option to put their piece up for sale. In the event of sale the split will be 25/75 (75% to the artist).

How do I sign up?

You can register online by
clicking here
. You can also visit the store 7 days a week, 10am through 6pm. Registration closes on the last day of drop off, Friday, September 29th at 6pm. You can register at anytime, even before your piece is finished.