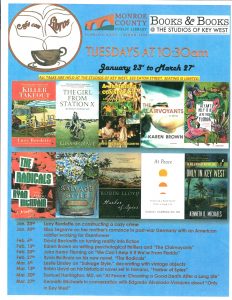 We're proud to announce that the Monroe County Library's popular Cafe Con Libros series will be cosponsored this year by Books & Books, and hosted at The Studios Key West. A distinguished writer will be appearing each Tuesday morning at 10:30am:
Jan. 23 – Lucy Burdette speaking about "Constructing a Cozy Crime"
Jan. 30 – Elisa Seagrave – "The Girl from Station X"
Feb. 6 – David Beckwith on turning reality into fiction
Feb. 13 – Karen Brown – "The Clairvoyants"
Feb. 20 – John Henry Felming – "We Can't Help It If We're From Florida"
Feb. 27 – Ryan McIlvain – "The Radicals"
Mar. 6 – Leslie Linsley – "Salvage Style"
Mar. 13 – Robin Lloyd – " Harbor of Spies"
Mar. 20 – Samuel Harrington, M.D. – "At Peace: Choosing a Good Death After a Long Life"
Mar. 27 – Kennith Michaels – "Only in Key West"
Click here for a printable version of the full schedule.