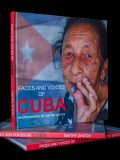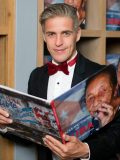 Join us for a multimedia presentation, party and singing with award winning author, Dmitry Zhitov!
"Cuba… a colorful island of mystery. I had the opportunity to spend 40 days and 40 nights there photographing the unique life and culture… in the streets, peering through doorways, chuckling at kids sneaking a look at what was happening outside. I wanted to bring back the experiences I had on the island and share them with you. This is Faces and Voices of Cuba … a virtual journey to this lost-in-time island. What s unique about this book is the addition of sound. As I was taking the pictures, I was also recording the sounds around me… the crashing waves, the swaying of the grass, the barking of the dogs, the songs of the birds and the voices of the people. You too can embark on this journey as you listen and appreciate the faces and voices of Cuba."
Dmitry Zhitov is an award winning documentary filmmaker, photographer, and author. He has earned multiple awards for Best Director, Best Film, and Best Cinematographer in national and international film festivals from Los Angeles and Miami to London and Madrid.
Dmitry relocated to the United States from Siberia in 2007. Prior to picking up his first camera, he worked for a cruise line, which allowed him to travel the world. It was during a visit to a London museum that the seed from which inspired his book, Faces and Voices of Cuba, was planted.
Although interested in photography since he was a child, it wasn't until his mid-20s when Dmitry's career as a documentarian began. Dmitry earned accolades with his first film, South Beach on Heels. The success of this film inspired Dmitry to venture into other fields within the cinematic world. During an extended stay in Cuba, Dmitry explored the island, the culture, and its people through the lens of his camera and the recording of his experiences. This book is the culmination of Dmitry's childhood dream.