Frank Deford, the long-time voice of sports on NPR's Morning Edition and the man once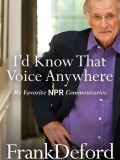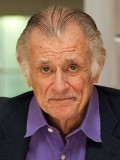 called "the Sinatra of sportswriters," will speak about his new book, "I'd Know That Voice Anywhere,"
at 6 p.m. on Friday, May 6, at Books & Books @ The Studios, 533 Eaton St.
In his more than 50 years writing about sports, starting at Sports Illustrated in 1962, Deford has covered everything from sex scandals to steroids, gamblers to cheaters, roller derbies to soccer moms. His new book is a collection of the best of his NPR commentaries: How was Babe Ruth like Winnie the Pooh? Why is football like Venice? How are the Olympics like the movie "Groundhog Day"? He even channels Shakespeare covering a Super Bowl.
In addition to his sports coverage, which has earned him the Sportswriter of the Year award six times,Deford has written nine novels. Billie Jean King calls Deford "one of the greatest writers of our time"; the writer Nicholas Dawidoff calls Deford "The Secretary of Sport in the nation's Cabinet of Letters…an unmatched interpreter of games and the people who play them."