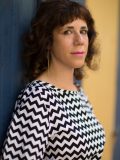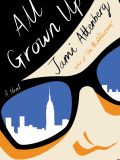 "I'm alone. I'm a drinker. I'm a former artist. I'm a shrieker in bed. I'm the captain of the sinking ship that is my flesh."
Meet Andrea Bern, the protagonist of best-selling author Jami Attenberg's forthcoming novel ALL GROWN UP. Andrea is a whip-smart woman in NYC "who is doing what she wants with her life, right or wrong, and not apologizing for it…at times she is a wise sage, and at other times, a selfish mess. It makes her so achingly human." (Liberty Hardy, Book Riot). Andrea's single, she's childfree, she's successful and yet not entirely devoted to her career. Everyone around her seems to have an entirely different idea of what it means to be an adult: marriage, babies, ambition. But what if those things aren't what you want? What does it actually mean to be a woman and a grown up, in this day and age?
Jami Attenberg is the New York Times best-selling author of five novels, including The Middlesteins and Saint Mazie. She has contributed essays about sex, urban life, and food to the New York Times Magazine, the Wall Street Journal, the Guardian, and Lenny Letter, among other publications.
This event is sponsored by Old Town Manor