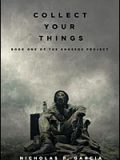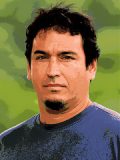 Nick, his parents, and all four of his grandparents are salt water Conchs. He left the Bone Key at a young age and attended Vanderbilt University and ultimately obtained a law degree from Georgia State University. He lives in the Atlanta area where he practices law when he is not pursuing his passion for writing.
            His first book, A Very Big League of Their Own, was published by Tate Publishing in 2006.   The book received glowing reviews and was described as "a beautiful example of satire used to stir thought in the masses." The Metro Spirit. He recently released book one of his Knossos Trilogy entitled Collect Your Things. Book two, Vidalia, was released in May of this year. The trilogy is a post-apocalyptic thriller that begins as a fishing trip to Rio and devolves into a survivalist tale, with a small group trying to maintain some semblance of sanity as the world implodes around them. In Vidalia the survivors find heaven on earth, but what is bubbling under the opaque sea and the mysterious place that the survivors stumble upon?
            Book Three of the Knossos Trilogy, Every Story Never Told, is due to be released in September and promises to provide the shock ending to this epic mystery.