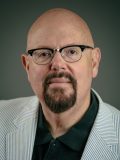 Robert Hicks, whose first novel, "The Widow of the South," was a New York Times bestseller, will read from his new book, "The Orphan Mother".
"The Orphan Mother," which is set in Tennessee just after the Civil War, tells the story of a former slave, Mariah Reddick, who was also a character in "The Widow of the South." Although Mariah has made an independent life for herself as a midwife, her world is shattered when her only son is murdered at a political rally. Mariah is determined to find out who shot her son—and why.
Hicks has written one other novel, "A Separate Country." He has also been active in the Nashville music business and has led the campaign to preserve the Franklin Battlefield near his home in Tennessee.
In a recent interview, Hicks said his hope for "The Orphan Mother" is that readers "would wish it never ended, one of your great dreams when you're a writer." But he also wants them to appreciate the heroism and humanity of Mariah Reddick. "I would want them to sit there and say, 'What a great life!'"