There's nothing that says "Thanks," "Congratulations," or "I Love You" as well as a personally selected gift book. Whether someone likes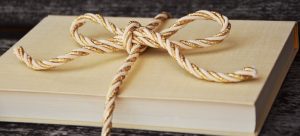 fiction, fact, fantasy, or frivolity, we can find something to please and provoke them.
Of course, we'd love for you to come into our store and browse for a gift. But if you don't have the time, take advantage of our gift services. Call us (305-320-0208) or send a note to booksandbooks@tskw.com with the salient facts and we'll provide suggestions. And we'll be happy to gift-wrap and mail the gift.
New baby? Our founder Judy Blume sends a select group of books to welcome her friends' new babies. She'd be happy to help you do the same, from a single book to a box to grow with. Just give us a price point and we'll take it from there.
Let us be your gift-giving headquarters for the smartest gifts of all.