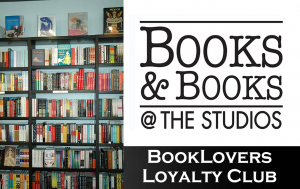 You have a passion for books and we think that should be rewarded! Join our Booklovers Loyalty Club for great savings year round:
* 10% savings on every book
* Annual 20%-off storewide sale
* Email Bulletins with exclusive discounts on in-demand books
The annual membership is $25.00.  It pays for itself while you're supporting Books&Books @The Studios. Discounts for a full year from your date of enrollment. The discount is applied immediately at the time purchase.
Join at the store, or fill out the form below and we'll get you enrolled and started on your savings.