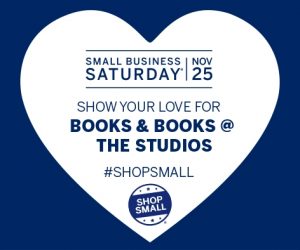 Join us on the Saturday of Thanksgiving Weekend for a holiday shopping tradition.
Indies First and Small Business Saturday® is a day that celebrates small businesses like ours, and it wouldn't be a celebration without customers like you joining us. The day brings together authors, readers, and publishers in support of independent bookstores.
So mark your calendar for Nov 25  and get ready to Shop Small® with us. Grab a friend or family member and come by BOOKS & BOOKS @ THE STUDIOS between 10am and 6pm on the big day.
You can help get the word out and maybe win $1,000 of books for yourself and another $1,000 worth to be donated, by posting on Twitter or Instagram with the hashtag #shopindiesfirstsweepstakes..
Thank you for all your support, and see you Saturday, Nov 25!