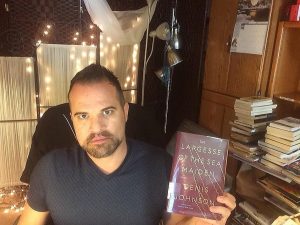 Michael Nelson began volunteering at Books & Books @ The Studios in the summer of 2016. He has been a librarian at the Key West Public Library for the past three years. Among his other library duties, he coordinates the popular Cafe con Libros reading series.
Before joining the Key West Library, he was a public librarian in Daytona and New Smyrna Beach. He has Master's degrees in English and library science from the University of South Florida in Tampa, and also serves on the Board of Directors for the Key West Literary Seminar.
Michael recommends Denis Johnson's recent (and presumably last) story collection, The Largesse of the Sea Maiden. He describes it as "an extraordinary final effort from one the best and most influential writers in contemporary literature." Johnson, who died last year, is the author of the acclaimed works Jesus' Son, Train Dreams, and Tree of Smoke, which was the 2007 National Book Award winner.
"Doppelgänger, Poltergeist," one of the stories from the new collection, features a character obsessed with Elvis Presley who believes that Presley's stillborn twin, Jessie, actually lived and became Elvis after the real one went into the army and was secretly killed. "I realize it sounds like a crazy story," says Michael, "and it is, but it's also hysterical and fascinating, bizarre and beautiful and emblematic of much of Johnson's work. And unlike the hefty, jumpsuit clad Elvis of later years, Denis Johnson never lost his cool."